Back when I was an editor in NYC, I read a lot of book proposals.
Good ones, bad ones. Boring ones. Exciting ones. Proposals for memoirs, self-help books, how-to guides, business advice, diet manuals…you name it, it came across my desk. In my dozen-or-so years as an acquiring editor, I probably read over a thousand book proposals. Maybe more.
For non-fiction books, a proposal is basically a marketing piece. It's meant to showcase your book-to-be so that the publishers will take interest and—hopefully—make you a big juicy offer. The proposal is a 40-60 page document that explains who you are, what your book is about, how you're going to help promote it, and whether you have the writing chops to pull it off.
If you want to be published by a traditional house, you absolutely need a book proposal–no question. But what if you're not aiming at the big houses? What if you already know you're taking matters into your own hands?
If you're self-publishing, do you need to write a book proposal?
The short answer is no. If you aren't trying to sell your book to a publisher, technically you don't need the dog-and-pony show that is a book proposal. But might you want to write one anyway? Oddly enough, you might.
Writing a book proposal can be a very helpful and clarifying exercise that gets you primed to write—and then sell—the big kahuna: Your book itself.
So here are three reasons to write a book proposal…even if you're planning to self-publish.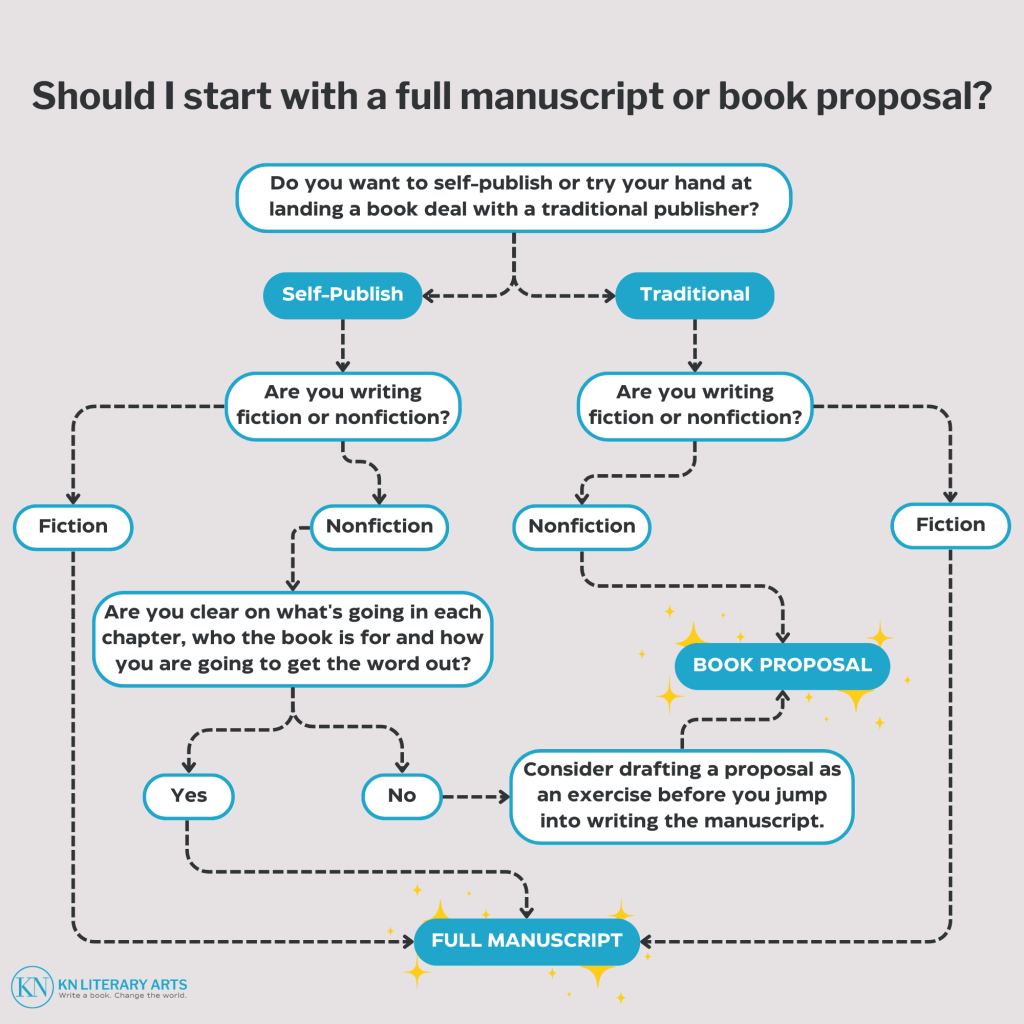 Reason #1: Writing a book proposal teaches you how to talk about your book.
I hear from authors every day who have the seed of an idea for a book, or maybe they have a great personal story to share with the world. But they have no idea how to talk about it. They hem and they haw. They tell me too much about some parts and not enough about others.
Writing the overview section of a book proposal forces you to get really clear about what your book is, why people need it, and why you're the right person to write it.
It will help you hone your hook—you know, the 30-second "elevator pitch" that tells us everything we need to know about your book. The teaser that whets our appetite for more. Which is super important should ever find yourself in an elevator with, say, a producer for your local morning TV show. (Hey, it happens!)
Reason #2: Writing a book proposal forces you to create a powerful and thorough outline for your book.
An outline is the backbone of a great book, and it's a huge part of a book proposal, too. You'll need to include not only the table of contents, but also chapter abstracts for every chapter in the book.
A chapter abstract is a 2-3 paragraph explanation of precisely what content will go in each chapter.
For those writers who could use a little structural kick in the pants, creating chapter abstracts gently, ahem, forces you to figure out how you're going to organize your content.
It also sets you up to hit the ground running when you're ready to start writing the book. What's your excuse not to write, when you already know what's going in every chapter? Now get yer butt in that chair!
Reason #3: You have to figure out who your audience is and how you're going to reach them.
Gone are the days of a publisher doing all the heavy lifting for you marketing-wise. Every book sale is up to you—especially if you're self-publishing. So…how are you going to reach that audience?
Marketing is a very good thing to start thinking about before you finish writing your book. Otherwise publication day is going to be a massive let down.
Publishing your book without building an audience first is like getting all dressed up for a party, only to discover you forgot to send out the invites.
Writing a book proposal will help you get clear on the demographics of your tribe, as well as a slew of different ways you can help pique their interest. Before your book comes out.
So there you have it: Three great reasons to write a book proposal, even if you're going to self-publish. I didn't even mention the part about completing a sample chapter (look at that! your whole first chapter complete!). So what do you think? Is it time to start writing your book proposal? Leave a comment below and let us know what you think!
---