Lisa Marie Runfola is a world traveler, a mother of five, and the author of A Limitless Life in a Powerless World: A Memoir, released in February 2019.
We first met her in the Fall of 2017, when she scheduled a call to talk with one of our Publishing Consultants. From our first phone call, we knew we loved her! We also knew we just had to pair her with our colleague, Chandika. Two years later—with Chandika's help—she now has one book out and another in development.
Recently, Chandika sat down with Lisa Marie over video chat to talk about her book journey. They discussed creating her memoir, how Lisa Marie developed personally through the process, and what's next for her as an author.
How it All Began
Chandika: Let's start at the beginning, before you even started writing. What drew you to write a memoir, as opposed to another genre?
Lisa Marie: I needed to do it for my own healing. I felt like I had to get my story out first, before I could write anything else. I also really wanted it to help people, and I felt like what I experienced had the potential to do that. But I had to heal myself through writing it first.
CD: Are you saying that writing memoir helped you heal?
LMR: It definitely did, because I was able to get my story out; I didn't have to keep it inside of me anymore. It was a healing process because I had to face it. By talking to other people, writing it down, and going through the whole process, I faced it all.
CD: We'll talk about that process, as well as what you faced, in a minute, because people need to hear about that. But first, have you always been a writer?
LMR: Oh, yes. Definitely. I have been writing since I was a little girl. I used to sit in my bedroom and write poems and write down my feelings. I wrote about all kinds of things—about nature, bugs and butterflies, all of that. I always wrote. I did it by hand at first, and then I started typing on an electric typewriter, which I still have. I also wrote on yellow legal pads—my favorite method is still pen to paper. My husband bought me a new pack yesterday! He's the sweetest; he knows. A pack of yellow legal pads, it's better than a diamond ring for me!
CD: But you didn't deliver me your manuscript on legal pads…
LMR: No, I wish I could have! I'd like to be Dr. Wayne Dyer and just hand an editor 30 or 40 yellow legal pads and be done with it! But I had to go through a process. I had to create that first draft, which was tough.
Help with the Process
CD: Was that when you contacted KN Literary arts?
LMR: Yes. I was midway through that first draft and the rest was on the legal pads, so I contacted KN Literary. I thought I'd get an editor, but I got more than that—I got a coach and an editor. Because I wasn't fully ready for actual editing, as it turned out. I needed more than the editing process; I had to dig deep into places I didn't want to so I could get this out for my reader. We worked together for what—a year? A year and a half? We started with coaching and then moved to editing.
CD: And what would you say was the biggest challenge you encountered during that process?
LMR: At first, the biggest challenge was that I didn't know how to work Microsoft Word—the word processing was hard. In my former career, I was a word processing operator, but putting it from my yellow legal pads into the computer was my biggest hangup! I didn't know the program, and now I'm switching over to Scrivener.
CD: And then?
LMR: And then: Structure. The structure of how the book should go. Here I was, thinking this manuscript was almost done…little did I know what you would pull out of me, Chandika! I thought it was done and you tore it all apart. I had the story and I had the words but the actual physical structure needed to be redone, since I wrote my book without an outline. I didn't know what Kelly says about outlines yet! Believe me, I know it now, because I made the process much harder for myself. This time around, I'm making it much simpler by starting with an outline, using Scrivener, plugging it in…the format and setting it up is still a challenge, so you're coaching me through it, but I know how important it is now.
CD: Yeah…outlines. They're a big deal. Editors are going to immediately ask about your outline, every time. What else would you tell an aspiring author about working with an editor?
LMR: It's essential. You have to work with an editor! Even if you have a Masters in English, you have to if you want to get a finished document. I can't imagine not having an editor. Start sooner than later, too; it's not a finished manuscript that you hand to an editor. You may think, "How do I do that when I don't have anything?" But an editor can help you with so much more than the individual sentences—she helps with the structure, the outline, the ideas. Find a great editor before you even start writing your book, to help you with the first draft.
CD: Great advice. Then, tell me about that second draft. What happens then?
LMR: Oh, boy. That's like when you think you're done with the manuscript, because you got that draft out…but no. It goes on and on and on! You draft it again and again and again. I didn't realize there were so many drafts. You put me through hell, Chandika! [Laughs] But every time you get it back, it starts as a whole big package and dwindles down from there. And there's a reason for that. With A Limitless Life in a Powerless World, the best feedback and reviews I've received are about the clarity. One reviewer who is really respected on Goodreads wrote that there is so much clarity, it's so direct and to the point that it leaves the reader without questions—and that's really good for a first memoir! All the different stages and drafts brought clarity to my story. Look at the reviews I'm getting: It's a fast, quick read; you can pick it up on a Friday and be done with it Sunday night; a schoolteacher told me how she read it straight-through on a flight, from check-in to landing. People don't put it down. That's what happens with a well-edited book.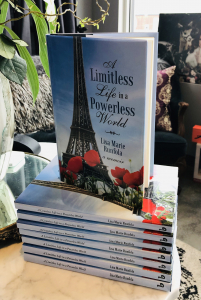 Digging Deeper
CD: So, that's what made the writing itself hard…but what was the hardest thing to write about?
LMR: It was definitely to dig into the things that I put in the closet or underneath the bed. I had to dig them out and face them. I'm so happy because now there's not anything that anyone can say that can hurt me because I already faced it. When you face your truth, as messy or raw as it may be, there are no more demons in closet. You've owned it. You've owned your truth, and when you own your truth, you're free. In Chapter Eight, I wrote about having an affair with a friend. And then I called Chapter Nine "The truth will set you free," because that's when I had to tell my first husband while we were lying in bed. It wasn't easy to write about that and initially, I didn't want to! But it was a part of my story; I had to write it.
CD: How did writing about it change your feelings about what happened?
LMR: It changed so much. It did set me free. I wouldn't want to be going through my life without accepting that. I don't feel bad about it because I took ownership over it. Look, I would not want to be at this age in my life with a secret. It's no fun living with a secret; it's difficult. I don't have secrets now, what you see is what you get.
CD: It's so true. Can you tell us how you published the book, and why you decided to go that route?
The Self-Publishing Journey
LMR: I self-published it. I just really wanted to get my book out there, and building a platform to find a publisher would take too long. So I made it happen myself. Self-published authors do a ton of work, but I'm just going to keep doing it until a publisher picks me up!
CD: You certainly are doing a lot of work; you're marketing it heavily through social media and in-person engagements. You've invested time and money. That kind of commitment takes strong motivation. What would you say was the driving force behind your book journey?
LMR: I wish I would have started with the marketing piece earlier but I didn't know how to do it. I didn't have much of a platform when the book launched, and I felt I needed to play catch up. Most writers don't want to do marketing and don't want to take the time to do it. But I've thrown myself into it. I'm learning along the way and I like to learn. My motivation is simple: I want to get it out as far as I can around the world. I have a lot of friends in the expat community, living internationally, and so in addition to U.S. readers, I have readers in Wales, England, France, Germany, Switzerland, Australia…It's touched a lot of women's lives, and some men, too, if you'd believe it.
CD: That must feel incredible. What were the other incredible moments? Can you describe the moment you first felt your book in your hands?
LMR: Holding the book in my hands brought an unbelievable sense of accomplishment. It's like when the nurse places a newborn baby in your hands—and I know because I have five kids. It may be even stronger, because so much emotion goes into writing a memoir—I mean, to start your first book as a memoir has to be the hardest, because you have to talk about yourself and your experience and it's really hard, you're opening yourself up, so vulnerable and raw, all that emotion in your hands! And then opening it and smelling the newness of the book…wow. It was amazing and I can't wait for it to happen again. It was a great day. I want to experience it again and again! Since I have five children, maybe I'll write five books…that would be really great!
Round Two
CD: Well, you're on your way to two!
LMR: Yes! We're already working on my non-fiction book, Unstuck. And we're writing it with an outline this time.
CD: Ha! Yes, definitely. As for the memoir, it can be vulnerable to have your story out in the world. How has it been received?
LMR: It's been very vulnerable but that vulnerability was well received because I told the truth. If you tell the truth, what can anyone do? There's nothing to say. We have five star reviews all over.
CD: And how has the response surprised you?
LMR: Some feedback has really touched me. One woman told me she hasn't read a book since high school. She thanked me for writing A Limitless Life in a Powerless World because she was able to read my story and be captivated by it. She finished the book, read it to the end. Another person who has ADHD told me she just doesn't read, but she finished my book because she couldn't wait to get to the next chapter. I want to publish a children's book series because I'm passionate about children's literacy, but I never thought about the adults who have trouble reading, and the fact that I helped them read is great. It's going to be out on audio soon and that will help people who don't read, too.
CD: Oh, that's fantastic! Okay, we're almost done. What advice would you have for an aspiring author who's just starting the memoir journey?
LMR: First, find a coach. She should be a really good editor, yes, but she should also be your cheerleader. You can talk yourself in and out of it a thousand times, so a cheerleader will help you. When you are avoiding a place you don't want to go, your editor will help you dig out the rest. Second, stick with it. Patience. I am not a naturally patient person, but you need patience to get through the process and see it through to the end. This is especially true when you don't know what the real big picture is, because as a first-time author, you could see where we were going to end, Chandika, but I couldn't. It just looked like this big jumbled mess; there were so many drafts. So you have to have faith in your editor even when you don't know what's happening, and patience that you will eventually see it. Looking back now, I didn't really recognize what was going on. You have to go through each layer, like peeling an onion, or you're not going to come up with a quality product. If someone asked me what did KN Literary do for me? They helped me peel through the layers to get a finished product. Thank God you knew that I had to go deeper, because I didn't.
CD: Wow, it's such a process. You did amazing work with this book, Lisa Marie. So this is my last question: What can the rest of the KN Literary community do to help you spread your message?
LMR: Share, share, share! I hope that you're inspired by reading the book, and if so, please share it on your page, your social media, your friends—or feel free to leave a review! You can download the ebook or get it in paperback and hardcover, and soon it will be available in audiobook, too. And sign up for my email list www.lisamarierunfola.com and follow me on social media. I'm on FaceBook and Instagram as lisamarierunfola, and my twitter account is authorlmrunfola. Every "like" counts, as you'll soon see; we authors have to get each other's backs! Seriously, though, it helps me bring my story to more readers. That's my greatest joy, so thank you.
CD: Lisa Marie, thank you so much for bringing A Limitless Life in a Powerless World into being. I love thinking that it's the first of five! And thank you, always, for taking the time to talk to me.
LMR: Thank you! Even though you put me through hell!
Lisa Marie Runfola's unflinchingly courageous memoir details how she became stuck in life and the great lengths she went to in order to free herself, following her journey through romance, motherhood, grief and self-acceptance across an ocean and back again. Using wisdom, probing questions, and moving quotes to inspire reflection, A Limitless Life in a Powerless World dares readers to practice raw honesty and radical self-acceptance by facing what scares them, following their desire, and, ultimately, loving their own messy, beautiful, perfect truth.