Lora Cheadle was just like a lot of authors who come to KN Literary for assistance. When she came to us, she wasn't famous. She didn't have a bunch of celebrity endorsements to back her up. She hadn't cultivated a mailing list in the tens of thousands.
But she had three very important assets:
A small following of dedicated fans.
A unique method that was several years in development.
A whole lot of dedication.
Lora believed in herself and her message. She knew that if she could change just one reader's life for the better, it was worth trying. So she did everything she could to get that message out into the world.
I asked one of our editors to sit down (virtually speaking) with Lora Cheadle and uncover her secrets to building her platform and landing a publisher. I hope what she has to say inspires you to take the next step on your book journey!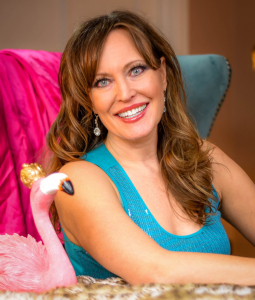 Lora Cheadle is a Life Choreographer® who works with spiritual tenets, psychology, women's empowerment and burlesque dance, bringing all of these aspects together in a system for life change that she calls FLAUNT. And FLAUNT is also the title of her book!
She sat down for a phone interview with KN Literary editor Chandika Devi to chat about her book and the process she went through in writing it.
How it All Began
Chandika Devi (CD): Hi Lora, it's so nice to meet you! Kelly has told me great things about you and your work. And now your book is getting ready to launch!
Lora Cheadle (LC): Yes! It's great to meet you too! And FLAUNT: Drop Your Cover And Reveal Your Smart, Sexy & Spiritual Self comes out on November 5, 2019. I almost can't believe it.
CD: It's so exciting. So, tell me, did you always know you would be an author?
LC: Absolutely. I knew from the time I was six years old. My family would laugh at me because on summer break I just sat there with a typewriter, totally absorbed in writing.
CD: So, did you study writing then?
LC:  I studied law and have a Juris Doctorate. I also have a BA in journalism and communications and a Minor in Speech. I was a corporate lawyer for 10 years. Then I quit and went back to school for hypnotherapy. As a therapist, I combined modalities and started working with women, bringing body-centered movement and dance into my therapy work.
CD: Where did you meet Kelly?
LC: I saw Kelly on stage at a conference and I was totally captivated by her. I could see that she knew her stuff and had been in the book world for years, yet she was passionate about helping people get their message out and convey what is on their hearts and minds. I rushed up to get her card at the break, then I took a class that she was teaching at the time on how to write a book proposal. There was a book proposal contest attached to the conference, and I entered it–but I didn't win!
CD: Wow. What was that like?
LC: Initially, it was tough. I thought my book really needed to come out through that specific publisher. Then I realized that maybe I was being presumptive. I was into the idea of manifesting and releasing attachments, so I put those lessons to work. And just like that, I released it.
CD: After you released it, what did you do next?
LC: As a part of Kelly's proposal class, I'd had one of the editors review my proposal. I got feedback that was really useful, but I also got confirmation that I had a message that would resonate with an audience. I got validation that others would understand it–something I had worried about before. So even though I didn't end up winning the contest, I had confidence that I had a proposal that was marketable. I started pitching agents and got one, and then, my agent sold my book to New World Library!
The Writing Process
CD: That's fantastic! Is the book you ended up writing just like the book in your proposal, or did it evolve?
LC: The structure changed quite a bit. When I wrote the proposal, I set up the book in two parts. The first told how I used the five steps of FLAUNT in my own life, and the second taught the reader to apply them to her own. But as I got to writing, I ended up intermingling those two parts to make it more readable and applicable. And even though I had been teaching the five steps for a while, I was still honing the process, so I ended up swapping out a lot of the client stories along the way.
CD: What was the hardest part about writing your book?
LC: I have two kids and my life can be quite busy. There were moments when I wrote extensively, but then I would put the book down for six months. I'm also a perfectionist, so I when I picked up the book again, if it wasn't exactly right, I would rewrite it.
CD: How did your writing process evolve over time? How did you learn and adapt?
LC: I knew FLAUNT would be a book for a long time, but during the years that I was collecting stories and taking notes, I didn't have the outline in my head. With my next book, which I'm working on now, I've already got most of the outline in my head! It will make it so much easier.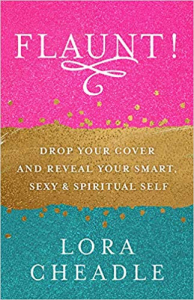 A Relationship-Centered Platform
CD: Yes! I completely agree. An outline makes the process so much easier! Can you talk about how you connect with your audience, the readership that builds your platform?
LC: Everyone has a why, a reason that they do what they do. Part of my why for my work is that I feel like women need to connect and support and bring each other up. We've always had that "good old boys" network and women have historically been the underdog. Instead of climbing over each other to achieve, we're better when we band together and rise as a pack. Not all women know or believe that, but I'm passionate about it. In building my platform, I've found a lot of joy in connecting with women who either do similar work or share the philosophy of helping women rise together. My platform became my network of other women who share in my same belief system. It's so empowering!
CD: I love that. Can you talk a little bit about creating your platform? Was it scary or, as I've heard some KN Literary authors say, icky?
LC: It dawned on me that it's about the connections and relationships. I had to shift gears from saying, "Like my post!" to centering the relationships I have with my audience, asking instead, "How can I serve you? How can we continue this dialogue? How can we support each other?" I made my platform relationship-centered, and only then did I start to really like building it.
For instance, I do really well with audio; I had a radio show and now I have a podcast. But honestly, I feel like I often have deeper, richer conversations on Facebook Messenger. Someone will be in pain or feeling stressed, and they'll sit down and shoot me a message that is just so poignant and heartfelt. Then I have the opportunity to respond. I feel like I've got my best connections that way. And radio is the best way to spread the message.
CD: What was your platform like when you first submitted to Hay House? What kind of numbers did you have?
LC: I would guess that my email list was in the 300 and social media was in the 500s.
CD: Did those numbers grow by the time you submitted to New World Library?
LC: I still don't have a huge platform, but I have an engaged platform. Now my email list is over 1,000 and my social is maybe around 5,000. My largest platform was/is my radio show.
CD: When you were submitting to agents, did you get any feedback about your platform strength?
Building in Strength
LC: Actually no! I never counted my rejections, but I'm guessing I received about 12 rejection letters and they were all very generic. My agent did give me feedback in the conversation we had when I was deciding whether or not I wanted to work with him. He said my platform was okay to good, but it wasn't big enough to be picked up by one of the huge publishers, and that my book would probably be better with a smaller publisher anyway. His advice was to keep doing what I was doing, meeting people, connecting and putting myself out there more.
CD: Did you ever pause your writing process to build your platform, or did you do the two concurrently?
LC: I did the two concurrently. I wrote my book over ten years, allowing it to unfold naturally and allowing my platform to grow organically. I wrote about clients I had worked with, I wrote about the five-step process I was developing, I wrote about my own aha moments and the insights I gleaned from doing my work. I wrote about my burlesque journey as it was happening and I just continued to meet with and connect to people. Of course I wanted to write the book but I never had a goal or a deadline in mind when I wrote it. I was a mom, I was busy with my business, I was dancing, I wrote when I felt inspired to write and I grew my platform when it worked for me. After I found an agent I got more intentional about growing a meaningful platform, and I did that while I was doing my book edits. 
CD: A lot of authors who have worked with us have gone after contracts with New World Library and not succeeded. Why do you think you were one of the lucky ones? (You may have no idea, but maybe a guess?)
Landing a Deal
LC: I think there were several factors that helped me. I truly do think my message is coming out at the right time and my voice is very unique. My agent was very helpful too. New World Library loved the concept, loved my personality, and loved my proposal, but did not like the sample chapter "as much as they had hoped they would." They asked for another writing sample. My agent suggested submitting some of my exercises instead of just story. I had four days, so I read other books New World Library had published, and I spruced up my exercises, writing my heart out for about 18 hours a day until they were perfect. New World Library loved them! 
CD: What advice can you offer to aspiring authors who would love to be published by a traditional house?
LC: Do your research. Play the game. Don't think that you can do it differently. If an agent or a publisher has guidelines, follow those guidelines! As a former attorney I'm really good at following directions to a T and that helps so much. Don't be too focused on a deadline. Let the process unfold. Be open and flexible to rewriting and massaging your work into something better. I think I rearranged my book four times! Don't stop. Get help where you need it, ask questions and enjoy the journey!
CD: Fantastic. So, when will your book come out?
LC: November 5, 2019. It's amazing!
CD: Congratulations again; we're really happy for you! What is the best thing KN Literary's readers can do to support you?
LC: Well, if you're local, I've got book signings in Colorado; one is at Aspen Grove's Tattered Cover and another is at the Boulder Bookstore. But the best thing people could do from afar is to jump on my website,  or Amazon, buy a copy (it's available for preorder now!), and give me an Amazon review. That would be extraordinarily helpful. If you want to check it out before you buy, I have an offer on my website that gives you a free chapter to download.
CD: Awesome. We'll send them your way! Lora, it's been an absolute pleasure. Thank you so much for speaking with me!
LC: Thank you! It's great to get all this support for my book release. I'm so stinkin' excited!